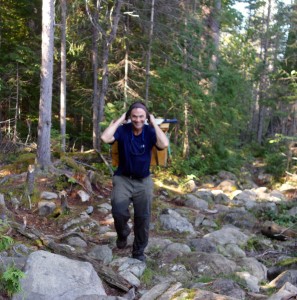 I went on my first canoe trip in the northern Ontario wilderness when I was 10 years old. I have paddled over 5,000 km and spent countless nights on trail. I have guided trips of various lengths over 18 different summers.
Every trip presents new challenges that inevitably provide invaluable life lessons and inspiration for the year ahead.
Last summer, two younger guides and I led a section of kids on a 9-day trip that went almost completely according to plan – key word almost. Toward the end of the trip, we bushwhacked a trail 250 meters in the wrong direction on a 400 meter portage I have taken at least 10 times in the recent past. Some enterprising beavers had built a dam that in effect shortened the trail by 200 meters. The mistake caused us two hours of hard work, and much embarrassment with the kids, but nothing else. We were reminded very vividly of the hazards of assuming that a job should be done exactly the same way as in the past.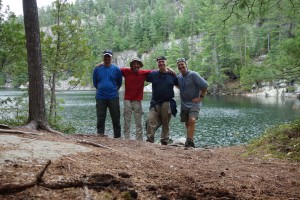 This summer, I guided an adult trip section with my original college roommate, a childhood friend whom I first got to know on a 35-day canoe trip back in 1975 and the father of one of the current campers/young guides whom I met very briefly last summer. All have years of canoeing experience. I expected that the main challenge would be transitioning from the "directive" style required to guide young campers to a "collaborative" style better suited for seasoned trippers. I also expected that there might be an opportunity for me to finally lead the "perfect" canoe trip.
Thankfully, my expectations were not met. The guys my age, unlike the kids, had no problem with taking explicit direction. Rather, they insisted upon it. More to the point, the trip did not go exactly according to plan.
Heavy rain arrived a day earlier than forecast. The skies opened up just as we reached our day four campsite. The timing was due in no small part to my marking the campsite on the wrong side of the lake and us paddling in a circle for almost an hour before we found it. It was the only day that we were not carrying a wannigan of dry firewood; I had incorrectly judged it unnecessary. Everyone was dog-tired and soaking wet as we set about pitching tents and a tarp over the fire pit. Tarp-pitching is not my forte; the young guides do it better than I, so I typically leave it to them. Our four-man section, however, had none of the young guides with us.
The team, of course, rose to the challenge. Tents went up in record time. Each of the four of us then scrambled to throw ropes around trees and pitch the tarp. We thought we were finished when someone mentioned that it would not quite cover the fire area, as rain continued to pour down. We quickly moved several of the ropes to different trees and placed a couple of poles in the center to provide drainage. It was not pretty, but it functioned. An hour of sawing, chopping and fanning rain-soaked firewood later, we enjoyed bowls of hot soup and yet another "cannot believe how good this tastes" trip dinner.
The following day another guiding error tested us again. The skies had cleared and we were looking forward to camping early on picturesque Gull Lake.  The portage we needed to take was different from the route I had taken in years past, so I checked with several other guides on the details. I listened intently to the "leg burn" at the beginning of the trail, but I must have engaged in selective hearing regarding the distance. I heard, and repeatedly told the group that it was "only 1200 meters."   30 minutes and certainly more than a mile of walking with a canoe on my shoulders, I realized that either the distance was wrong or we were very lost. I parked the canoe in a tree, and headed down the trail with one of the other guys.   We kept walking and walking and finally arrived at a lake that sure enough was Gull. We finished the first carry and lumbered slowly back for our second loads. Second time down the trail I was sure that the wannigan was going to break my neck, back or elbows. I must have rested the wannigan on logs 10 times. Toward the end, I was walking about 5 steps at a time before leaning over to catch my breath and re-adjust the load.
Three hours after beginning the portage, we paddled down an absolutely gorgeous lake to one of the most scenic campsites in Temagami. As we all splashed into the lake, and everyone "complimented" me on my ability to judge distances, we started hooting, hollering and laughing. When we returned to Camp, we learned that the portage was in actuality 1.8 kilometers, close to the longest I have ever done.
As last Friday's mediation approached the 7 p.m. hour, with the end in sight, but still quite a ways off, I thought of the last 600 meters of the Gull Lake portage. I smiled. I thought of old friendships, new friendships, perseverance and teamwork.
It was not the perfect canoe trip. Or was it?