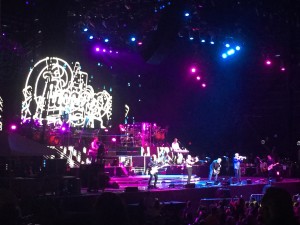 Chicago and Earth Wind & Fire recently played "the Amp" in Tampa. They brought their awesome full-sound horns, heart-pounding percussion, beautiful ballads and timeless melodies. More importantly, they brought their powerful message of peace and harmony that can only be described as inspiring.
The bands opened the show with a joint-set teaser. EWF followed with a set that showed off not only the fun dance-funk we all remember from the '70s and '80s, but also the full range of Phillip Bailey's amazing voice. Chicago has more hits than they had time to play, but they did their best to work as many as they could before the grand finale: both bands, original members out front, and everyone on stage and in the audience singing and dancing. Robert Lamm of Chicago did a great job when it came time for his verse on "Shake Your Groove Thing" and of course, Phillip Bailey owned "Does Anyone Really Know What Time It Is?"
For me, the highlight of the show was the two bands jamming to "25 or 6 to 4," a song that was a hit when I was in 7th grade and had no clue what the lyrics were about. Chicago original trombonist James Pankow hammed it up next to EWF original bass player Verdine White. No doubt a music professor would have noticed some age in the pipes, but from my point of view, the groups sang and played in pitch-perfect harmony.
No one from either band offered up a lecture. They did not have to explain. They showed what it is like to come together with a positive spirit.
One of my mediator friends was the first to "like" my Facebook post from the concert. He had seen the same show in L.A. a couple of months ago. Those of us in the sales end of the peace business fully appreciate the greatness of the show we witnessed.
Fun Fact: EWF also hails from Chicago and began their career in 1969, the same year Chicago Transit Authority released their first album.
– Rob Daisley